About Us
Sangam Restaurant 2 is a Indian takeaway in Stoke On Trent. Why don't you try our Special Chicken Tikka Massala or Meat Mushroom Aloo?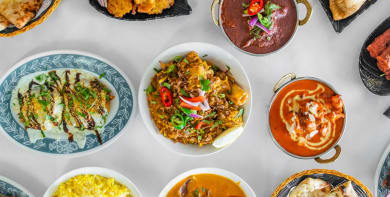 Reviews
185 reviews
Matthew
"Fabulous as always"
10/08/2020
Clare
"Not had a bad meal, lovely food and at the right price. Definitely recommend."
08/08/2020
Diane
"Would definitely order from here again,, food was very hot and everything was delicious."
01/08/2020
Teresa
"Best Indian food ever. Won't order from anywhere else as its great quality and loads of it plus more choices. Fab, fab, fab."
01/08/2020
Menu
Chicken Mushroom Spinach Small
£8.20
Chicken Mushroom Spinach Large
£9.20
Chicken Mushroom Aloo Small
£8.20
Chicken Mushroom Aloo Large
£9.20
Chicken Mushroom Chana Small
£8.20
Chicken Mushroom Chana Large
£9.20
Chicken Spinach Aloo Small
£8.20
Chicken Spinach Aloo Large
£9.20
Chicken Spinach Chana Small
£8.20
Chicken Spinach Chana Large
£9.20
Sangam Special Stir Fry Small
Served with boiled rice
£10.95
Sangam Special Stir Fry Large
Served with boiled rice
£11.95
Vegetable Karahi & Cheese Small
£8.50
Vegetable Karahi & Cheese Large
£9.50
Fish Massala Small
Haddock
£8.50
Fish Massala Large
Haddock
£9.50
Fish Dupiaza & Cheese Small
Haddock
£9.50
Fish Dupiaza & Cheese Large
Haddock
£10.50
Tandoori King Prawn Small
Salad & sauce
£12.95
Tandoori King Prawn Large
Salad & sauce
£13.95
Chicken Tikka Small
Salad & sauce
£8.95
Chicken Tikka Large
Salad & sauce
£9.95
Lamb Tikka Small
Salad & sauce
£10.95
Lamb Tikka Large
Salad & sauce
£11.95
Tandoori Chicken (Main) Small
Salad & sauce
£8.95
Tandoori Chicken (Main) Large
Salad & sauce
£9.95
Tandoori Mix
Salad & sauce
£11.95
Chicken Tikka Spinach Dupiaza & Cheese Small
£9.50
Chicken Tikka Spinach Dupiaza & Cheese Large
£10.50
Lamb Spinach Dupiaza & Cheese Small
£9.95
Lamb Spinach Dupiaza & Cheese Large
£10.95
Chicken Tikka Massala Small
£8.25
Chicken Tikka Massala Large
£9.25
Chicken Tikka Mushroom Massala Small
£8.50
Chicken Tikka Mushroom Massala Large
£9.50
Chicken Tikka Mince Massala Small
£8.50
Chicken Tikka Mince Massala Large
£9.50
Chicken Tikka Spinach Massala Small
£8.50
Chicken Tikka Spinach Massala Large
£9.50
Chicken Tikka Prawn Massala Small
£9.50
Chicken Tikka Prawn Massala Large
£10.50
Tandoori Chicken Massala Small
£8.50
Tandoori Chicken Massala Large
£9.50
Special Chicken Tikka Massala Small
Cooked with almond & coconut
£8.95
Special Chicken Tikka Massala Large
Cooked with almond & coconut
£9.95
Chicken Prawn Balti Small
£8.95
Chicken Prawn Balti Large
£9.95
Chicken Tikka Pathia Small
£9.45
Chicken Tikka Pathia Large
£10.45
Chicken Tikka Massal-E-Dar Small
£9.95
Chicken Tikka Massal-E-Dar Large
£10.95
Lamb Spinach & Egg (Boiled)
£11.95
Tandoori Chicken Mince Massala Dupiaza
£11.95
Tandoori King Prawn Massala Dupiaza
£13.95
Chicken Tikka Shashlick Sizzler
Chicken tikka, mushrooms, onions & peppers served with curry sauce
£12.95
Mixed Sizzler
Chicken tikka, lamb tikka, lamb seek, chicken seek & mushrooms served with curry sauce
£13.95
Sirloin Steak
Served with fried mushrooms
£14.95
Scampi Peas
Reformed
Served with peas OR mushrooms
£8.50
Scampi Mushrooms
Reformed
Served with peas OR mushrooms
£8.50
Fried Plaice Peas
Served with peas OR mushrooms
£8.50
Fried Plaice Mushroom
Served with peas OR mushrooms
£8.50
Various Omelette
Please write your chosen flavour in the comment box
£8.50
Sangam Super Starter (For 4 Persons)
£20.00
Chicken Tikka Bombay Potato Puri
£4.50
Tandoori King Prawn Starter
£6.50
Sangam Special Seekh Kebab
£4.50
Seekh Kebab Starter Chicken
£4.00
Sangam Special Shami Kebab
£4.50
Garlic Mushrooms with Cheese
£5.00
Mixed Vegetarian Balti Small
£6.90
Mixed Vegetarian Balti Large
£7.90
Meat Mushroom Spinach Small
£8.40
Meat Mushroom Spinach Large
£9.40
Meat Mushroom Chana Small
£8.40
Meat Mushroom Chana Large
£9.40
Mince Meat Mushroom Small
£8.10
Mince Meat Mushroom Large
£9.10
Contact Us
Find Us
13-15 Glebe Street, Stoke On Trent, ST41HL
We deliver to
ST1, ST11, ST2, ST3, ST4, ST5, ST6