About Us
Sangam Restaurant 2 is a Indian takeaway in Stoke On Trent. Why don't you try our Special Chicken Tikka Massala or Meat Mushroom Aloo?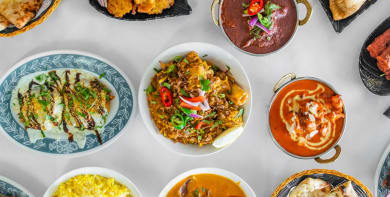 Reviews
149 reviews
Amanda
"We have used sangams for at least 12 years and are never disappointed"
23/05/2020
Jessica
"Fantastic food and service as always!"
23/05/2020
Rob
"Perfect! Thanks team!"
18/05/2020
Daniel
"Great food as always ⭐⭐"
16/05/2020
Menu
Chicken Mushroom Spinach Small
£8.20
Chicken Mushroom Spinach Large
£9.20
Chicken Mushroom Aloo Small
£8.20
Chicken Mushroom Aloo Large
£9.20
Chicken Mushroom Chana Small
£8.20
Chicken Mushroom Chana Large
£9.20
Chicken Spinach Aloo Small
£8.20
Chicken Spinach Aloo Large
£9.20
Chicken Spinach Chana Small
£8.20
Chicken Spinach Chana Large
£9.20
Sangam Special Stir Fry Small
Served with boiled rice
£10.95
Sangam Special Stir Fry Large
Served with boiled rice
£11.95
Vegetable Karahi & Cheese Small
£8.50
Vegetable Karahi & Cheese Large
£9.50
Fish Massala Small
Haddock
£8.50
Fish Massala Large
Haddock
£9.50
Fish Dupiaza & Cheese Small
Haddock
£9.50
Fish Dupiaza & Cheese Large
Haddock
£10.50
Tandoori King Prawn Small
Salad & sauce
£12.95
Tandoori King Prawn Large
Salad & sauce
£13.95
Chicken Tikka Small
Salad & sauce
£8.95
Chicken Tikka Large
Salad & sauce
£9.95
Lamb Tikka Small
Salad & sauce
£10.95
Lamb Tikka Large
Salad & sauce
£11.95
Tandoori Chicken (Main) Small
Salad & sauce
£8.95
Tandoori Chicken (Main) Large
Salad & sauce
£9.95
Tandoori Mix
Salad & sauce
£11.95
Chicken Tikka Spinach Dupiaza & Cheese Small
£9.50
Chicken Tikka Spinach Dupiaza & Cheese Large
£10.50
Lamb Spinach Dupiaza & Cheese Small
£9.95
Lamb Spinach Dupiaza & Cheese Large
£10.95
Chicken Tikka Massala Small
£8.25
Chicken Tikka Massala Large
£9.25
Chicken Tikka Mushroom Massala Small
£8.50
Chicken Tikka Mushroom Massala Large
£9.50
Chicken Tikka Mince Massala Small
£8.50
Chicken Tikka Mince Massala Large
£9.50
Chicken Tikka Spinach Massala Small
£8.50
Chicken Tikka Spinach Massala Large
£9.50
Chicken Tikka Prawn Massala Small
£9.50
Chicken Tikka Prawn Massala Large
£10.50
Tandoori Chicken Massala Small
£8.50
Tandoori Chicken Massala Large
£9.50
Special Chicken Tikka Massala Small
Cooked with almond & coconut
£8.95
Special Chicken Tikka Massala Large
Cooked with almond & coconut
£9.95
Chicken Prawn Balti Small
£8.95
Chicken Prawn Balti Large
£9.95
Chicken Tikka Pathia Small
£9.45
Chicken Tikka Pathia Large
£10.45
Chicken Tikka Massal-E-Dar Small
£9.95
Chicken Tikka Massal-E-Dar Large
£10.95
Lamb Spinach & Egg (Boiled)
£11.95
Tandoori Chicken Mince Massala Dupiaza
£11.95
Tandoori King Prawn Massala Dupiaza
£13.95
Chicken Tikka Shashlick Sizzler
Chicken tikka, mushrooms, onions & peppers served with curry sauce
£12.95
Mixed Sizzler
Chicken tikka, lamb tikka, lamb seek, chicken seek & mushrooms served with curry sauce
£13.95
Sirloin Steak
Served with fried mushrooms
£14.95
Scampi Peas
Reformed
Served with peas OR mushrooms
£8.50
Scampi Mushrooms
Reformed
Served with peas OR mushrooms
£8.50
Fried Plaice Peas
Served with peas OR mushrooms
£8.50
Fried Plaice Mushroom
Served with peas OR mushrooms
£8.50
Various Omelette
Please write your chosen flavour in the comment box
£8.50
Sangam Super Starter (For 4 Persons)
£20.00
Chicken Tikka Bombay Potato Puri
£4.50
Tandoori King Prawn Starter
£6.50
Sangam Special Seekh Kebab
£4.50
Seekh Kebab Starter Chicken
£4.00
Sangam Special Shami Kebab
£4.50
Garlic Mushrooms with Cheese
£5.00
Mixed Vegetarian Balti Small
£6.90
Mixed Vegetarian Balti Large
£7.90
Meat Mushroom Spinach Small
£8.40
Meat Mushroom Spinach Large
£9.40
Meat Mushroom Chana Small
£8.40
Meat Mushroom Chana Large
£9.40
Mince Meat Mushroom Small
£8.10
Mince Meat Mushroom Large
£9.10
Contact Us
Find Us
13-15 Glebe Street, Stoke On Trent, ST41HL
We deliver to
ST1, ST11, ST2, ST3, ST4, ST5, ST6